Rob Bennett & Sons
Hay Sales & Agricultural Contracting Services
Top quality Horse, Pony, Alpaca, Sheep & Cattle fodder
9 Range Rd, Gruyere. PH: +61 3 5964 9255 Rob: +61 408 175 136. Daniel: +61 417 331 781.
Email: rob&daniel@haysales.net.au or talbingo@netspace.net.au
Website: www.haysales.net.au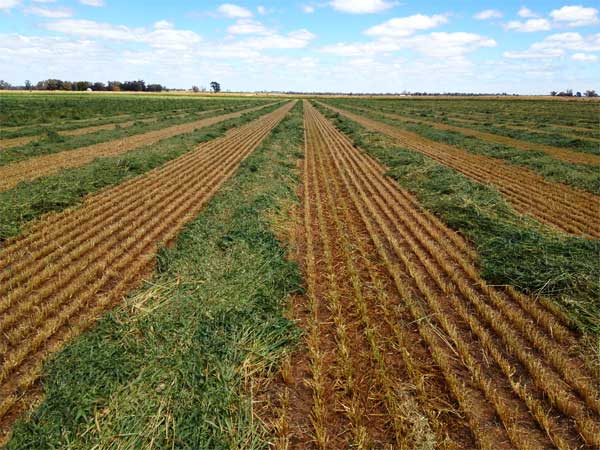 Oaten hay just mown - Stedan Park, Tocumwal.
27th September 2017
OPEN FOR TRADING SATURDAY MORNINGS ONLY OR BY

APPOINTMENT
EFTPOS facilities now available. - 1.5% surcharge on credit card purchases.
EFTPOS payment is only available onsite at our shed.
Thank you.
Pasture Improvement "Pays"
Pasture Renovation - Pasture improvement does pay.

For help developing your paddocks to produce a good quality high rainfall pasture blend of Rye & Clover or Oaten crop call us for a quote.
These paddocks are ideal for rotation and act as a weed breaker crop for Autumn permanent pasture establishment.

There is a soil test service available.
Vineyards- How to conserve moisture
Mulching Barley and Pea Straw available in rolls and small squares.
Theser are ideal for laying along vineyard rows.
It's time to lock your paddocks up & harrow and spray them for weeds.
If you want your hay or freight carted we'll do it on time and safely,
just give us a call - Rob: 0408 175 136 or Daniel: 0417 331 781
If you need your hay delivered ask for a price, we are very resonable.
This Month's Special!!
Grass Hay big round 5x4 net wrapped bales, good weight, good value - $55
Lucerne - round bales- $95
Rye & Clover - Small squares $13.50 each
Good quality grass hay $11.75
Lucerne Hay, small squares just $12.95
Pea Straw, small squares - $8.50
Products Available
Small Squares
1st Quality Lucerne Hay, 2nd Lucerne Hay, Tricala Sub Clover, Rye & Clover, Oaten Hay, Meadow Hay - Yarra Valley, Grass Hay - Yarra Valley, Barley Straw, Pea Straw.
Large Squares
Lucerne, Clover & Rye, Oaten Hay
Round Bales
Good Quality Grass Hay Roll (5x4 Triple net wrapped), Meadow Hay, Mulching Hay -(2nd Grade Grass Hay), Lucerne, Sub - Clover Rolls , Silage Rolls, Oaten Rolls
Chaff
Oaten Chaff, Lucerne Chaff, Molo Mix